Science: Living Things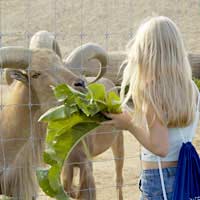 Most children have developed an interest in the world around them by the time they start school. They often have lots of enthusiastic questions about what they observe and at school they learn to explore some of these things, ask questions and learn how to work out the answers for themselves. Parents and caregivers have a role to play in stimulating their children's interest in all things scientific both in the home and outside the home.
KS1 Science
The Key Stage 1 science curriculum is divided into four sections. One of these sections is called 'Life Processes and Living Things'. This section gives children a greater understanding of living things in the world around them. Processes of life are studied, such as growing, the production of offspring in humans, animals and plants, and they also learn to classify living things into groupings such as mammals, insects and plants.
Helping your Child
In 'Life Processes' your child will learn that animals move, feed, grow, use their senses and reproduce. If you live in the country or even on a farm there will be many opportunities to learn about different animals and how they move, feed and grow.
In learning about humans and other animals your child will learn about healthy living, including good diet, drinking plenty water and taking regular exercise. Emphasise the need for a healthy, balanced diet, including plenty fruit and vegetables. Get your child to keep a food diary of what they have eaten for the week – they can either list or draw pictures of the foods, and discuss at the end of the week whether they have a healthy diet or not and what can be done to improve their diet.
Your child will learn about plants and the necessity for light and water for healthy plant growth. A simple way of demonstrating how seeds grow into plants is to grow cress seeds. All you need is a suitable container, moistened cotton wool and the cress seeds. Sprinkle them on the cotton wool and check in a few days to see how much they have grown.
To help your child to classify groups of living things according to their differences and similarities you can get them to cut pictures of different types of living things from magazines and put them into different categories. Use simple categories such as humans, animals, plants and insects.
The best way to learn about plants and animals that live in the local environment is to take your child on an observational nature walk, either around your own garden or around a local park or woodland area. Discuss with your child the different types of plants, animals and insects you see and why they are suited to that particular habitat.
There are many great online science activities that you can participate in with your child. Interactive games such as matching animals to their correct environments and information and activities on how to help your child discover plants, making your own fingerprints and how to conduct a mini beast hunt are just some of the fun practical things you can do with your child at home that will support their science learning.
You might also like...