Learning about Shapes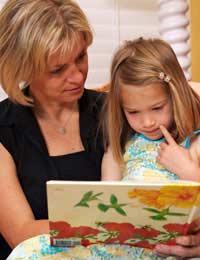 Shapes are all around us and so the best way to teach your child about shape is to point out shapes and discuss them together as you see them. Your child can start learning about shapes long before they go to school and should be able to recognise shape differences as young as 18 months.
Learning About Shapes
When your child starts school they will learn to visualise and describe common 2D and 3D shapes and their properties. This can include feeling outlines, straight lines, angles or curves and being able to classify shapes according to whether they have straight or curved edges. Your child will also learn how to use shapes to make patterns, pictures and models, and to determine position of shapes and distance between shapes. Learning about shapes can be fun and there are many ways to reinforce your child's knowledge of shapes at home.
Helping your Child
The following are just a few activities you can do with your child to help them learn about shape:
Books are a wonderful and interesting way to teach your child about shapes and their properties. A visit to a local library or bookstore should find you shape books suitable for your child's age. When looking at shapes discuss the names and properties of each shape. For example, a circle is round with a curved line, a square has four sides with straight lines and four corners.
Art is also a great way to teach your child about shape as well as reinforcing creativity. Ask your child to cut out different shapes of different sizes from coloured paper. Show examples of how a circle can become a wheel or how a triangle can become a tree. Your child can combine shapes to create new shapes, pictures or collages and glue them onto a large sheet of construction paper. As your child gets older they may be able to make simple 3D shapes using templates that can be easily found on the Internet or in books.
If your child enjoys cooking there are many cooking activities that can incorporate shape discussion. Make cookies and cut them into different shapes, make triangular nachos or cut sandwiches into shapes.
Shape games are a fun way of teaching shapes and reinforcing shape vocabulary. Matching shapes, classifying, sorting and stacking shapes will teach important classification skills and ability to recognise and think about visual characteristics. 3D shapes can be used to construct a variety of models.
The world is full of shapes of all types and sizes. Get your child to point out shapes in their own surroundings. Identify shapes both inside and outside of your home. Discussing the many shapes on your house, in the car and at the shop will improve your child's ability to identify shapes and increase their vocabulary. Visiting a grocery store will give you many opportunities to integrate other areas of Mathematics into your child's learning. As well as shape you can teach your child about colour, money, weight and capacity.
If your child is having difficulty learning shapes try not to criticise or reprimand them. With regular and consistent reinforcement your child will eventually start to recognise shapes and be able to discuss their properties using the appropriate vocabulary.
You might also like...