Infants: Recognising Colours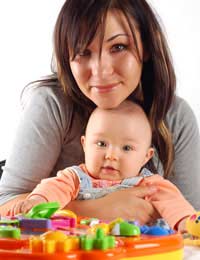 There are many ways in which you can prepare your toddler for school and encouraging them to recognise colour is one of them. Colour is everywhere, and the more you show your child colours the quicker they will start to recognise them and comprehend the differences in colours and hues. Bear in mind that children often have difficulty understanding that different hues of one particular colour are actually all the same colour.
Understanding Hues
One way of doing this is to look at books that focus on colours. Either buy colour related books, or pick some up at the library and look at them together. Many children can recognise differences in colours by about 18 months. Most colour books will contain items with different shades of the same colour. This is important, as your child will probably be able to discern that the colours of individual objects are different even if they are the 'same colour'. In this way, when teaching a child about a particular colour and it's different 'shades' the colours can be described as a 'shade' of green or a 'shade' of red. Also make use of the words 'light' and 'dark' to describe the shade.
Choosing brightly coloured toys for your child will make it easier for your child to recognise the colours. For children only beginning to learn colours, toys made in the primary colours such as reds, blues and yellows are easier to distinguish.
Activities
Discuss colours with your child. This will not only help them to learn their colours but will also enhance their language skills. When your child is getting dressed talk about the colours of their clothes, for example ask them "What about the blue shirt today?". When your child is choosing a toy you could ask them "Would you like to play with the red ball or the yellow truck?".
When you are out of the house point out colours in your surroundings. Pick out a red tomato at the shop; show them a blue car, a yellow signpost, a red slide at the playground - there are endless opportunities.
Play colour-learning games with your child. After reading a colour book or looking at colours have a quiz with your child. Ask "what colour is a banana?", "what colour is a tree?" and similar questions. Buy your child crayons and a colouring book, and discuss the different colours that should be used for each picture.
If you have a computer there are many different free online activities and games that you can play with your toddler to help them learn colour. These fun, interactive activities will be enjoyable for your child and help them to learn colours quickly.
Your toddler is learning something new so do not be frustrated if your child makes mistakes. Never reprimand or criticise them for getting a colour wrong – some children take longer than others to learn new skills.
Colour blindness affects some children but it is difficult to tell when your child is a toddler. However, if your child is still having difficulty and confusing colours by the time they go to school there are certain tests that can be done to establish colour blindness.
You might also like...