ICT: Word Processing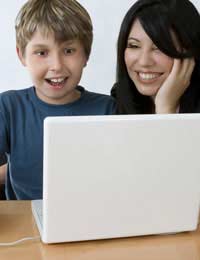 When it comes to school projects teachers often assume that children already know how to use a computer and word processing package. This is not always necessarily the case but, in general, most households do possess a computer in this day and age. The computer has become an essential part of the learning process, particularly in subjects like English, science and maths. Word processing is an important teaching tool, and word processing is a vital skill for children to learn.
Word Processing
Word processing offers a child a huge range of opportunities to improve their writing skills. The four stages involved in writing – drafting, revising, editing and publishing, can become very tedious and boring when done by hand. With a word processor, all the child has to do is type out the exercise, and all changes can be made quickly and easily before printing a perfect looking copy.
Word processors also make collaborative work much easier, with work easily being shared and exchanged from computer to computer. In general, children find it easier to write for longer periods with word processing and often learn to type faster than they write. Spell-checkers can help children to develop their own spelling strategies and improve their spelling skills. Word processing programs also have dictionaries and thesauruses that can help to expand your child's vocabulary and help them with spelling.
ICT and Writing Difficulties
ICT can be very useful in encouraging a child with writing difficulties, whether it is dyslexia, dyspraxia or a physical disability. It can be a wonderful tool to express themselves or as a way of producing different writing styles. Word prediction programs can provide excellent writing support for those with writing and spelling difficulties.
Word processing can often be very advantageous to a child with poor handwriting and it can give a child a wonderful sense of accomplishment to be able to hand up a beautifully presented piece of work done on the word processor. A word processor is a wonderful tool for the completion of homework. Homework can be presented using appropriate fonts, and clip art and the high quality of presentation which word processing offers can be very motivational to a child.
The Internet and Other Resources
If you have a computer with an Internet connection it is important to encourage the use of the Internet as an important research and learning tool. If you do not own a computer try taking regular visits to a public library where Internet access is available for free. There is also an abundance of subject topic and homework resources freely available on the internet.
Many great reference materials can be found on CD-ROMS – you may have some at home already but if not they may be available at school or at your local library. There are many different software packages that teach the concepts and skills of science, mathematics, English and indeed every subject in a way that children find more interesting than normal teaching. Information can be researched for projects and children enjoy the type of interactive research they can do on CD-ROMS and the internet.
If you have a computer and you wish to help your child with word processing or just using the computer in general, it may be advisable to do a short course if you feel you do not have the necessary skills. Otherwise, there are many software programs out there that can be of benefit to your child. Some word processing programs will teach them the basics of word processing and also encourage children to write well, giving tips on structuring their work and improving their spelling and vocabulary.
You might also like...