Learning About Writing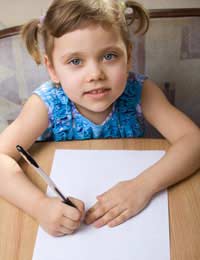 Writing involves the use of many different skills including:
holding the pencil correctly
organising ideas
forming letters
using correct grammar
punctuating sentences
using vocabulary
spelling words
staying on topic.
It requires patience, both from the parent and the child to get all these skills working together to create a piece of writing. If your child has a learning difficulty, or just a difficulty with one of the skills, it can make writing a very tedious and frustrating process, and can in turn make your child very reluctant to write.
Help you can Give
At Key Stage 1 your child will just be getting to grips with the basics of writing. As a parent or carer, you have a very important role to play in helping your child learn to write. Children at this stage are often keen to write and enjoy learning to write their names or label their drawings.
The following are some ways that you can help your child in learning to write:
When your child is first learning their letters reinforce the letter shapes by getting your child to join dots or use a pencil to go over letters and shapes that you have drawn.
Encourage your child's enjoyment in learning to write. Do not criticise untidy writing because if your child does not have fun learning they may become reluctant writers later on.
Set a good example for your child. Let them see you writing letters, emails, a diary, shopping lists etc.
Help your child to make labels for different items around the house, greeting cards, a scrapbook full of labelled pictures or their own booklets.
When practicing writing with your child at home use lower case rather than capital letters to avoid confusion. Lower case letters are always taught first.
If your child is unsure about the spelling of a particular word get them to try it out on a scrap piece of paper first. Children often need to write down a word with different spellings to find the right spelling, as it is easier than visualising it in their heads.
Young children often enjoy writing stories. If they wish to write a story help them to think of what it is about, what happens in the story and how it ends. Do this by asking appropriate questions about the characters and plot. Encourage them to write down some notes to help them remember their ideas. Your child might even keep a little book of their own short stories or a journal.
Remind them when writing about the different words they can use to write about the past, present and future.
If you have a computer, encourage your child to learn typing skills at an early age.
Writing is one of the most important skills your child will learn at Key Stage 1. If your child is having difficulty learning to write spend as much time as possible practicing letters, words and of course reading with them. Encourage your child to enjoy writing from a young age and it will benefit them right throughout their school years.
You might also like...