The Internet and Homework: Pros and Cons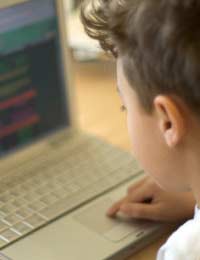 The internet is a valuable learning tool. It can fire up a student's imagination, introduce them to new areas of knowledge, sharpen their communication and research skills and instill in them a thirst for learning. On the other hand, it can also function as a distraction, it holds a safety risk and some information may be unreliable or of a poor quality. When parents and students are in the know as to the benefits and drawbacks of using the internet to help complete homework tasks, it can be harnessed as a positive and powerful educational resource.
Homework and the Internet: The Benefits
The internet is dynamic and colourful, an interactive resource that often appeals strongly to visual and kinaesthetic learners. Many students who encounter difficulties with reading are drawn to the web and its plethora of pictures and unusual fonts. As such, the use of the internet can be a wonderful way to inspire students to study and to feel confident as independent learners.The regular use of the internet also helps to build upon a student's key skills. Research and Information Technology skills are both sharpened.
The internet is populated by a wide variety of educational sites, many of which are targeted at particular age groups and areas of the curriculum. Such sites can be particularly useful when it comes to revision. Many of these sites are written by dedicated education professionals and can function as a virtual extension of the classroom, providing students and their parents with information tailored to their needs.
On the other hand, the internet can also be an ideal space in which to explore the unfamiliar. If a student is researching poisonous snakes, for example, along the way they may take an interest in a related topic such as a particular habitat, like the rainforest. Providing such tangential research doesn't distract the student from their homework task, online research can expand the mind's horizons and encourage independent interests and a passion for learning.
Homework and the Internet: The Drawbacks
The internet is bursting at the seam with information. Much of it is well researched, reliable and thoughtfully presented. A large proportion of it, however, is not. It can be difficult for a student to find information appropriate to their level of study. They may feel overwhelmed by the sheer amount of information, much of which is conflicting. This need not spell doom and gloom, though. The sprawling, unedited nature of the internet can provide the perfect learning opportunity. If students are encouraged to think critically about each site they visit and to assess the reliability of the information on offer, surfing the web can enhance their skills of analysis.
Worryingly, though, the internet can occasionally tempt some students to cheat when carrying out homework tasks. The urge to copy and paste information should be resisted at all costs. The rise in sites selling homework assignments can also be viewed as cause for concern. The internet does not exist to render homework obsolete. Furthermore, much online information is presented poorly and is rife with spelling and grammar mistakes.
Social networking, online games and emails can all distract a student from their homework task. It is crucial that parents and children negotiate family guidelines for these sites to ensure they do not encroach into homework time.
Online safety is a key concern for all parents. Reading up on how to help children stay safe online is a must. It is also a good idea to learn about the safety features available from internet service providers. Parents should explain to children that stranger danger is as real online as it is in the outside world.
If used sensibly, the internet can enrich a student's homework experience. Despite this, it is worth remembering that there are a whole host of useful resources available to students. The presence of the internet should not deter students from visiting the school or local library in search of information. Crucially, it is important to approach the internet with a critical, independent mindset and to take all appropriate safety measures.
You might also like...
That was very useful for me, because it helped me a lot with my essay and gave a lot of ideas. Thank you for your help!
Geo_tal. 21
- 7-Jan-18 @ 9:06 AM