Improve Your Eating Habits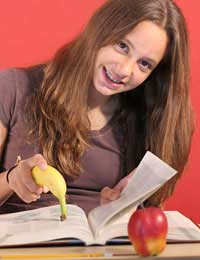 It is never too late to instil healthy eating habits in your child and it is never too early to start. Proper nutrition begins at home with the foods that you buy and prepare. Children often pick up eating habits from their parents and the rest of the family, so by practicing good eating habits as a family your child will be more likely to eat healthily.
The following are some steps that can be taken in helping your child to adopt a positive attitude to healthy food:
Varied healthy food should be given to your child from a young age. Studies show that a child needs to be exposed to a new food 10 or more times before he or she will accept it, so it is important not to give up if your child does not like a new food immediately. Take it slowly and only introduce a few new foods each week – not several at every meal.
Young children should be transitioned from pureed foods to solids sooner rather than later. Babies introduced to solids between the ages of 6 and 9 months are less likely to be picky eaters than children who are given all creamy foods until after 10 months of age.
Teach your child the importance of healthy, nutritious food. Explain to them that to be healthy, to play properly and to feel well, they need to eat certain foods.
Make meal times more fun for children who are picky eaters by serving disliked foods on special plates or doing things like creating funny names for dishes. Vegetables could be arranged according to colour or made more appealing if cut into shapes.
Give your child some responsibility in choosing what they eat at home. Encouraging sound choices at home will help them to make good decisions when eating outside the home. When out shopping, let them help with choosing fruit, vegetables and other healthy foods.
Encourage your child to participate in the preparation of meals. Setting or clearing the table, preparing salads, or engaging in other simple food preparation tasks will add to your child's interest in the food they are eating.
Eat together as a family. Eating meals in front of the television should be discouraged.
The day should always be started with a nutritious breakfast. This will give your child the nutrients and energy they need to go about their daily activities. Studies show that eating a proper breakfast can help children to achieve and maintain a healthy weight, and helps their school performance.
Tips For Healthy Eating
A Balanced Meal: Approximately one half of a balanced meal should consist of fruit and vegetables, one quarter should consist of lean meat and one quarter should be whole grains such as pasta, bread, crackers or tortilla. If your child is hungry an hour before the family meal give them a nutritious snack such as raw vegetables, dried or fresh fruit or whole grain crackers.
Treats: Emphasize to your child that a number of treats are acceptable, but ensure they know the correct portion size. For instance a bite size chocolate bar and a piece of fruit is a better snack substitute for a lunch box than a full sized bar.
Drinks: Your child should drink 4-6 glasses of water a day. Fizzy, high sugar, high calorie drinks should be limited.
The increasing popularity of television and computer/video games is contributing greatly to child obesity, due to an inactive lifestyle. If you think your child is overweight or has a problem with over eating it is important to consult your doctor so that they can recommend an appropriate course of action.
Convenience and junk foods can lead to all sorts of health issues, from diabetes to skin problems, and much more. If your child has a balanced diet while they are young it will provide them with a lifetime of health benefits.
You might also like...