How Much Should You Help With Homework?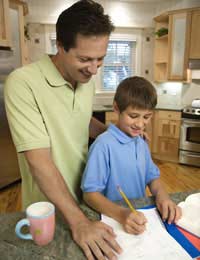 On the one hand parents are actively encouraged to get involved with their child's education and give assistance with homework. On the other, parents are told that if they do the work, or 'help' too much, then this is to the detriment of the child's learning. So how much help should a parent really give their child, and how much help is considered to be 'too much'?
The main aim of homework is to develop the child's mind and skills and to reinforce classroom learning. Homework gives children the opportunity to explore topics in more depth than classroom time allows and prepares them for the following days work. It also helps teachers to gauge how well the children have understood a topic covered in class and gives parents the opportunity to become involved in their child's learning and show their support.
Homework Policy
First of all, when deciding how much help to give your child with homework, you should consult the school's homework policy. If you do not already have a copy of this you can ask the principal of your child's school. This will tell you how much time children are expected to spend on their homework at each level.
Deciding how much help your Child Needs
How much help you should give will depend on your child's grade level and study habits. The younger your child, the more direction they will need with their homework. If your child is older, they will possibly be able to do most of it unassisted. If your child is having difficulty with their homework it is possible to help your child without giving the answers. Make sure your child understands the directions, do some sample questions with them and then watch your child do some questions. Check their work, praise them for right answers and show them how to correct mistakes. As tempting as it may be, never do your child's homework for them. This defeats the whole purpose of homework, and the teacher will be unaware of areas where your child is having problems.
Homework Help Tips
There are many other ways that you can help and support your child with their homework. The following are some homework help tips:
Show your child that you care about their homework and that you think it is important. Never let any negative experiences you may have had with regard to education stop you from supporting and encouraging your child.
Check your child's homework when they are finished and discuss it with them. Take an active interest in their work and ask them questions about school.
Help your child to develop good homework habits; doing homework and studying at a regular time in a suitable study area.
Ensure your child gets adequate sleep, proper nutrition and exercise. Good health will help your child's learning both at home and in school.
It is the responsibility of the parent to ensure that a child gets the most out of their homework. Demonstrating a caring attitude and supporting the child's homework can be both a wonderful bonding exercise and a way to keep in touch with what your child is learning in school.
Teachers want parents to be involved in their child's education, so do not be afraid to ask them questions and discuss your child's progress with them. They are the best people to give you help and advice on how best to assist your child with their homework.
You might also like...