Importance Of A Good Study Area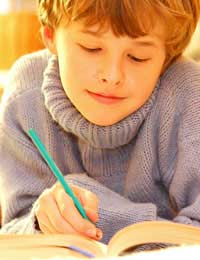 It is important to help your child to develop strong study and organisational skills. This is important for your child's success in school and will develop positive attitudes and feelings of competency for your child. Helping them to develop good study habits now will help them to develop good work habits for when they are adults.
One way of helping them to develop these skills is to provide them with a good study area. For younger children this will be necessary for doing homework and for secondary school students they need an area that suits both homework and exam study. Students themselves often choose an area that is not particularly conducive to effective studying, such as their bed. It is important, as a parent, that you help them to choose an area that is free from noise and outside distractions such as television and telephone.
The best place for your child to study is a place in which there is nothing else to do but study. In an environment like this your child is much more likely to study, and to retain information that they have studied. This does not mean that the area has to be completely silent or set up as a study area, but it does mean that it is important to find a place to study that suits your child's personality and learning style.
Choosing a Study Area
The following are some tips to take into account when helping your child to choose a study area:
Your child's personality and preferences – Are they easily distracted? Do they work better sitting quietly or listening to music in the background? Do they prefer to move around when studying? How often do they need to take breaks?
Identify a suitable study space – Based on the above help your child to choose a study space that is quiet and free from distraction. Being completely away from others is usually best, especially away from younger siblings.
Make the study area comfortable - A good study area will be well equipped, with adequate lighting and will have supplies close at hand. A desk and chair at the proper height to avoid repetitive strain injury is important. It might be a good idea to have shelves and drawers to organise necessary books and equipment.
Establish a homework/study routine – Decide on times for study and breaks. Effective communication with your child is important so that you know when your child is studying and when it's time for them to take a break.Be aware of the impact that a study area can have on the quality of your child's study and make sure that their area is quiet, comfortable and secure enough to help them to give their undivided attention to their study. Remember, there is no one 'best' study environment. Help your child to choose their best place by being aware of their learning style, personality and learning tasks, with physical conditions that help concentration such as cool room temperature, good lighting and with a proper desk and chair of the correct height.

You might also like...

Hi, I found this article really interesting. I am doing a school project where I investigate ways to optimize the study environment. I was wondering if you have any more info on the topic? I would love to hear from you.