About Home Schooling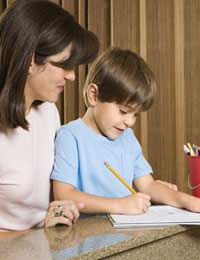 Many of us prefer that our children are educated within the confines of a school environment where they can socialise with other children and get to grips with learning the required syllabus whilst learning to accept criticism and instruction from adults.
However for some children this is not possible be it because of ill health, behavioural problems which can lead to exclusion or simply because their parents consider that they would be better served learning from home.
It is by no means illegal to want to home school your child but there are certain things you should be aware of in order for you to do so. Here we aim to provide some hints and tips on home schooling.
Who Can Home School?
The simple answer to this is anyone can. There are no legal requirements to stipulate the level of qualification involved or required in order to teach your child everything he or she might know in order to pass the relevant examinations.
If you feel that you wish to home school your son or daughter you can providing of course that you inform the relevant bodies which in this case are primarily your Local Education Authority.
What To Teach My Child if I Home School?
Again this a matter of choice; some parents wish for their children to be educated to the same standard as though currently attending school proper whilst some parents opt for a more traditional approach to learning and wish for their children to have a more rounded understanding of the world around them.
If you wish for your son or daughter to learn in line with the current syllabus then your Local Education Authority can provide you with a copy of the syllabus and – if needs be – you can purchase the required literature from them.
How To Go About Schooling?
If you have decided that you want your child to be educated at home you can –as we have already mentioned – do it yourself or you could if finances allow employ the services of a qualified home tutor. Such tutors will educate your child to the same standard as that attained within a school but it is important to remember that employing such an individual will incur quite hefty charges and if these become something of a burden and you have to cease using a home tutor then it could cause problems later on.
If you are going to teach your child yourself then it might be an idea to set some sort of timetable for them. Timetables not only give structure to your day but also give structure and a sense of discipline to your child's day too.
If they have set periods of time to complete certain lessons or tasks they are more likely to become able to manage their own time more effectively, a trait that in itself is useful to have all through life.
The Legalities of Home Schooling
Home schooling is perfectly legal and is something that many thousands of parents are actively participating in at this time. The law says that it is a parental responsibility to ensure that a child is educated to a standard that will certainly at least teach them the basics.
It is imperative however that if you do decide you are going to home school your son or daughter that you inform your Local Education Authority of your intention to do so. Failure to do so can constitute simply that your child is not attending school which – as we are now all aware – can carry a fine and in some instances a custodial sentence if such a trend continues.
Before embarking on home schooling why not contact your Local Education Authority and ask to speak to a School Welfare Officer – he or she will be able to provide you with information and advice on how to proceed should you feel that Home Schooling is the best course of action for both you are your child.
You might also like...