Preparation & Planning Your Homework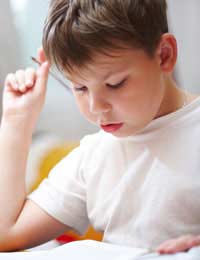 Regardless of whether your child is four or fourteen having your child prepared for school is a must. Here are some tips to make planning for school and homework easier
Primary School
Make sure your child goes to bed early so that they will wake up refreshed and ready to take on the day's tasks at school. Choose an age appropriate time and stick with it. Keeping a regular bedtime will encourage routine.
Have all the necessary school supplies ready. Most schools provide parents with a school supply list of books stationary, pens, uniform etc at the end of the last school year. Make sure that your child has all these ready to start back in school in September and check regularly throughout the year that your child still has all their supplies. Extra supplies such as stationary and writing implements should be kept at home in case your child loses them or forgets them at school. Basic supplies will usually be needed at homework times.
School bags should always be packed the night before. As soon as your child is finished their homework, all supplies and books should be packed for the next day. This saves the stress of rushing around in the mornings trying to get everything ready.
Primary school children should have a homework diary where they write down all the homework they are given by their teacher. Using a homework diary makes it easier for your child to keep track of their homework and tick it off as each piece is done. It also makes it easier for you to check their homework. Make it part of your routine to check this, ensuring that all homework is recorded and completed.
Secondary School
Ensure that your child has an organiser to keep track of their homework and school schedule. Some schools make it mandatory for the students to make use of an organiser. Again, it is important to check your child's organiser to make sure homework is being recorded and completed.
If your child is at GCSE level and you find they are struggling with a particular subject you may want to consider hiring a tutor to help them. Colleges and universities are becoming more and more competitive, and if your child is motivated to do well then a tutor could be the difference between getting a good grade and an excellent grade.
Your child will have a lot more freedom at secondary school level than they will have had at primary school, and it is easy for them to become distracted by all the things associated with the teenage years. Stay tuned in to your student's school and social schedule and establish a reasonable curfew for your child. Limit time spent involved in a part time job, or extra curricular activities such as sports so that there is enough time for study.
Regardless of the age and level of your child it is important to stay involved. Know what is happening in school by always reading school notes brought home, checking the schools website and keeping regular contact with your child's teachers. You could even volunteer to help out in school or join a Parent Teacher Association.
Proper planning and preparation for school and homework can be a major contributing factor to your child's education and success.
You might also like...