Coursework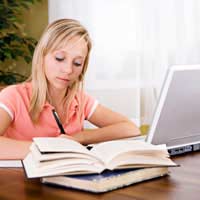 Coursework is an important step your child will take towards gaining their GCSE and A Level qualifications. Knowing what to expect and how best to help your child can help them to gain higher grades. Coursework differs from traditional homework in that the mark your child gets for coursework counts towards their final grade. The amount of homework and coursework your child will have to complete varies according to the different subjects they are studying and the best people to give you advice on how to help your child are your child's teachers.
Coursework can be a good way of showing your child's ability, where a traditional exam may not be suitable e.g. a music presentation or art portfolio. It allows your child to study a subject more in-depth, take more control over their own learning and to work at their own pace. Coursework assignments are often completed over a number of days or even weeks and so give a more accurate representation of your child's capabilities. Assignments can take the form of projects and fieldwork, artwork, performances and oral work, written work and essays, or experiments and investigations.
It is more likely that your child will do well if they:
Choose subjects that they are interested in. They will be more motivated to study for subjects that they actually enjoy.
Organise and pace their work throughout the two years. You can help your child to create a timetable by taking note of when they have to hand in coursework or sit exams over the two years. Your child should be free to organise their week-to-week work but can ask for help when they need it.
Study in a quiet place, free from distractions like television and telephone.
Research coursework topics carefully before completing – your child should never rush into writing coursework without doing the relevant research first.
Write up coursework clearly and neatly with proper adherence to spelling, punctuation and grammar. Attention should also be paid to the word limit and coursework should not exceed this. Typically 5-10% of the marks can be deducted for English errors and the government places a large emphasis on literacy for every child.
Encourage your child to avoid leaving projects until the last minute, to avoid rushing their work, and to avoid copying or plagiarism. Coursework produced must be entirely your child's own work - even one paragraph copied is considered to be plagiarism. Plagiarism can be easy to spot, and indeed there are many computer programs that can help teachers and exam boards to identify plagiarism. It is acceptable to work and do research with a classmate but all written work must be the child's own. Plagiarism can lead to the final grade being lowered or even a disqualification from receiving the qualification altogether.
If for any reason your child is struggling with their coursework the best thing they can do is to discuss it with their teachers. There are also some excellent resources online, including revision guides and websites with tips and advice for coursework and homework.
You might also like...