English Language: Writing To Persuade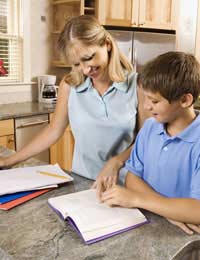 We encounter persuasive writing every day and it plays an important part in every day life. With persuasive writing, the goal is to convince people to agree with your opinions and ideas and relies heavily on facts rather than opinion. The writer takes a position for or against an issue and writes to convince the reader to believe or do something. Examples of persuasive writing include newspaper articles, reports, speeches, movie reviews etc.
Persuasive writing generally follows the format of introduction, body (where the argument is developed) and conclusion. The introduction usually has a "hook" to grab the reader's attention. This can be something like a strong statement, unusual detail, a statistic or fact, a question or and exaggeration or outrageous statement.
The body provides evidence to support the statement in the introduction. It can use statistics or research, real life experiences or examples. The conclusion will usually summarise the most important points made in the body and reinforces what the writer wants the reader to believe or do.
Writing is a powerful tool but persuasive writing can be one of the most challenging types of writing for a child. It is important to encourage your child to think about how to get their readers' attention and be persuasive and clear. You can help your child by assisting them to think through their topic and to practice the elements of persuasive writing orally first.
Some of the points you can help them to think through before writing are as follows:
Identify the audience – this could be the child's teacher, or, depending on the assignment, the teacher may have come up with a different audience for the child to write for.

What is the issue you want to address?
What will be your position – for or against? Your child will need to make a firm stand so they need to be decisive about which position they want to take.
What arguments will they make to support their position? Help your child to decide on what information is needed to make their position clear.
Provide opportunities for your child to write at home. It doesn't have to just be homework; if your child likes writing they will write just for enjoyment. Show your child the many purposes for writing and help your child to write in different forms.
Persuasive writing can include something as simple as a television show review or a product advertisement. Choose something that they will find interesting and enjoyable to write about.
Subject Choice
When writing at home you will need to help your child select their subject. Children often find it difficult to know what to write about. Guide your child to write about their interests; something they are passionate about and that will make them want to learn more.
Explore the ideas by brainstorming a list – maybe creating a diagram or just listing ideas. Discuss each idea and see which ones are usable. Identify the audience and then begin finding the information.
Information can be found at the public library, in encyclopaedias or on the internet. After research is done the information should be organised and source cards should be kept for each source of information – this can include things like the author, book title etc.
The next thing your child can do is write a statement. This statement will be the basis of their piece of persuasive writing and includes the point that the child is trying to make. It is important to make a plan and organise the information in order of importance before writing the rough draft. When writing the rough draft it is important to remind your child not to plagiarise as they write. Children should revisit their writing and read over it carefully after the rough draft is completed. Discuss your child's piece of writing and work out any revisions that need to be made.
Proofreading will look for any mechanical errors in the writing e.g. spelling, capital letters, and punctuation. Try to explain your child's mistakes to them and help them to recognise the errors themselves. At the end of the process of research drafting, redrafting, editing and proofreading your child will be ready to assemble the end product.
Work with your child and encourage them to enjoy creative writing. It will help your child to do better in school, enjoy self-expression and become more self-reliant.
You might also like...