Science: Radioactivity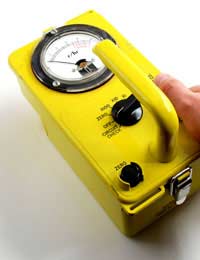 Radioactivity is a topic that is studied as part of the GCSE Science Curriculum in Key Stage 4. Your child will be learning what radioactivity is, sources of radioactivity and measuring radioactivity.
They will also learn about the uses of radioactivity such as the following:
Smoke detectors.
Thickness control in paper mills.
Sterilisation - gamma rays can be used to kill bacteria and mould, and prolong shelf life of foods.
Radioactive dating – the age of ancient organic materials can be found.
Radioactive tracers for medical purposes such as checking for a blocked kidney. Also used in industry to detect leaking pipes.
Cancer treatment – gamma rays can kill cancer cells without the use of surgery. This is called radiotherapy.
Other Areas
Also, part of this topic is the damages caused by radioactivity to the cells in the body caused by alpha particles, beta particles and gamma rays. How radioactivity is detected using the Geiger-Muller tube, photographic film, the Gold Leaf Electroscope, the Spark Counter, the Cloud Chamber and the bubble chamber. They will also be learning about more modern methods of detecting radioactivity using Scintillation Detectors and Solid-State Detectors.
The concept of 'half-life' does not appear in some foundation GCSE exams, your child can check with their teacher if they are not sure what level they will be taking. Half-life is the time that it takes radioactivity to fall by half; this is easiest to demonstrate on a graph. Radioactivity from some substances dies away very quickly whereas from others it takes thousands of years for the level of radioactivity to drop.
History of Radioactivity
The radioactivity topic would not be complete without learning the history of radioactivity and looking at some famous scientists in the radioactivity field. These include:
Henri Becquerel - discovered that crystals of a Uranium compound would darken photographic plates
Marie and Pierre Curie – Marie researched medical uses for radioactivity and together with Pierre discovered Polonium and Radium
Ernest Rutherford – studied the rays emitted from Uranium compounds and showed that they were different to X-rays.
Hans Geiger – a German physicist who created the first reliable detector for radioactivity 'The Geiger Counter'.
Resources
All the information that your child will need will be in their textbooks and given to them in school during lesson times. For the revision of the radioactivity topic in the Science Curriculum there are many websites that revise the topic and include quizzes, worksheets and questions. The use of these is one way that your child can revise this topic outside of their textbook information. Encourage your child to do some extra reading and research from the Internet or library books, as exploring the topic in more depth at home will add to their understanding.
As this is not an easy topic it is important to advise your child to revise what is covered during each lesson that same night, while the information is still fresh in their mind. The better they understand the topic the easier it will be when it comes to revising at exam time. If your child does not understand any part of the topic encourage them to ask their teacher, as he/she will be the best person to clarify any points that are difficult.
You might also like...