Creating Outlines for Essays and Projects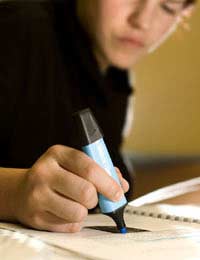 From about KS4, the need to plan and outline before essay writing or undertaking project will probably become apparent. While all such plans really needs are some brief notes on the introduction, body and conclusion of essays they will likely be much more help if they include more information. In fact, if a student can sit down to essay writing and has everything that (s)he needs right in the outline then this plan has done the best job possible. A thesis statement, supporting evidence and sources should all be included in a good essay or project outline.
Format of Outlines for Essays and Projects
Most outlines take the same overall shape. Many use bullet points to save on time and writing, but all will detail the introduction, body and conclusion of the essays. In fact, usually the body is broken down into subsections of the main points of the essay. Generally there are at least three of these. When essays become more frequent and complex, from about KS4, outlines will become longer as well. However, students must remember that outlines serve to help them plan essays, they are not the essays or final product in and of themselves.
Thesis Statements in Outlines
All essays and projects have a point, and this main point should normally be able to be summed up in one sentence. This one sentence is what is known as a thesis statement, and it appears in the introduction of an essay. Generally in an outline a student will write out the opening sentence, which should contain a hook to grab the readers attention, as well as the thesis statement. When students write their essays, then, they can fill in the other sentences in this paragraph.
Supporting Evidence in Outlines
Every main point in an essay or project deserves its only bullet point or section in an outline. As students plan, these subsections should fill up with the evidence of this point. For example, exact quotations and statistics should show up in outlines so that students have them at the ready when they engage in essay writing. In fact, some scholars prefer to write essays only with their outlines next to them and deem an outline a success only if they do not have to go back and look at other sources while they write.
Sources in Outlines
As evidence is added to an outline, so too should be the sources from which this evidence came. So if a student is adding quotations or essays to use, for example, then the bibliographic information on the research sources should be added as well. Students should not forget to add in the exact page on which they found this information as they made need to go back and check it later, and they will likely need to include this information in a citation or footnote within the essay or project as well. When all of this information is assembled in one place it will make writing any necessary bibliographies easier as well.
Assembling an outline for an essay is a good way to plan out what will be included in this project. To be most helpful these outlines should include the student's thesis statement, evidence and sources.
You might also like...
Really helpfull.someone should try this.
don
- 15-Nov-12 @ 11:05 AM