ICT: Handling Information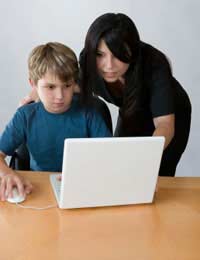 Children's homework rarely requires the use of a computer, as not every child will have access to a computer outside of school. However, if you do have a computer there are many ways in which a computer can be used to help a child with their homework.
If you as a parent/carer are reasonably proficient with a computer yourself, you can give your child a wonderful head start in teaching them how to use it efficiently. At home you have an excellent opportunity to consolidate school ICT learning, teach your child new skills and software-specific knowledge, and encourage your child to apply ICT to their wider school learning.
Handling Information
Handling information is the ability to use ICT for gathering, organising, storing, retrieving, modifying, interpreting and presenting information. It involves categories such as databases, spreadsheets and Internet and CD-ROMS. Data handling is one of the most widely used applications of computers today, but it is one of the more challenging aspects of ICT for teachers and parents to deliver to children. The ability for children to be able to handle information effectively is vitally important – pupils need to be able to access, understand and interpret information in many different forums.
Typical Data Handling Tasks
It is important to find ways to make data handling activities interesting and relevant for children and to find ways of integrating it in a meaningful way into other areas of the curriculum. Handling information can involve things like designing questionnaires, collecting information, inputting the information into computer databases, interpreting the information and answering questions based on the data.
Children often spend a large amount of time in the construction of tables, bar charts, pie charts etc. These skills, though important, often move their attention away from the interpretation of the information. A computer allows for easier sorting and collating of data, and allows for different representations of information, making it easier for children to interpret and discuss their findings.
At home you can encourage your child to create simple databases and spreadsheets to sort and classify information in conjunction with what they are being taught in school. Your child may not be set any specific ICT homework but you may wish to help your child with some research on the Internet or CD-ROMS, or your child might want to practice creating their own databases and spreadsheets based on some information given to them by their teacher.
You could create a fun project for your child to do in their spare time and base it on something they enjoy doing. The following are some examples of projects that your child might find interesting:
If your child is going on holiday, help them design a computer-generated holiday packing checklist. They could also investigate how to design a database of 'useful phrases' and their foreign equivalents (especially if they are already studying a foreign language).
If your child enjoys cooking maybe you could help them to design a database of their favourite recipes.
A spreadsheet could be used to create a list of your child's chores and errands.
Boys especially, may enjoy creating a spreadsheet of their favourite sports team's results, or even track their own training and match schedules if they are involved in playing a particular sport.
Your child could create a database with addresses, email addresses and phone numbers of all their friends.
Don't worry if you are not familiar with databases and spreadsheets yourself. If your child has access to a computer at home they will often be able to practice themselves based on what they have learnt in school. However, there are many useful computer courses available for adults, so if you are really interested in supporting your child's ICT education it may be worth looking into participating in a relevant course and broadening your own computer skills.
You might also like...