Should I Still Help My Child At College?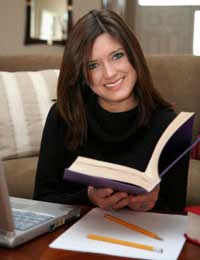 By the time your child reaches college, you may think that they will be able to fend for themselves in the world of education. Indeed, many children eschew their parents' help altogether, preferring to complete their work under their own steam.
But this is certainly not a steadfast rule. Plenty of children need help with their homework while at college – and, as a parent, you are likely to be called upon to offer some of that assistance.
Shouldn't I leave them to it now?
Many parents presume that, once their child has reached college age, the days of helping with homework will be long gone. In many cases this might well be true. Many children of college age are now perfectly happy to complete their coursework and other assignments on their own, without any help.
Others, though, need a bit of extra support. There are a few reasons why this might be the case. They might, for example, need some practical help with individual subjects. Alternatively, they may need some help developing the study skills they need to enable them to complete their work properly themselves. Finally, they might simply need some assistance motivating themselves.
You shouldn't necessarily stop helping your child with their work once they reach college age. The decision should be made on the basis of individual needs.
What if I don't have the expertise?
This is, of course, a common problem. As children reach college age they begin to specialise more dramatically in individual subjects. The inevitable consequence is that many parents find they are less well qualified to help with college work than with homework at secondary school level.
Some parents use this as an opportunity to discover things that they would not otherwise learn. You might well find that, by doing the research necessary to enable you to help your child, you also develop an interest in the subject.
You should remember, though, that offering help can sometimes be worse than doing nothing. If you are giving advice that is incorrect, you could be doing more harm than good. So, if your child requires subject-specific help (as opposed to general study skills or motivation) and you do not think you are in a position to give it, you may want to consider alternatives.
Where can I get help?
There is a range of help available to parents who want to assist their children through their educational career. Libraries stock a variety of resources and your local library is likely to have A-level and AS-level study guides for all of the major subjects. These can be hugely useful if you need a quick primer or refresher.
You might also consider approaching your child's college directly, and asking how best to help. They may be able to provide you with guidance and assistance. Some colleges even prepare dedicated study packs for parents to give them the subject-specific knowledge they need.
Finally, some parents choose to find a third-party tutor to help their child outside college hours. Of course, this is simply unaffordable for many families. But if you are considering hiring a tutor, you should think carefully before making a decision. Where possible, hire one with a professional qualification, or a good reference from someone you trust. This will help to ensure that your child gets the help they need, and that you get value for money.
Helping with homework is a potentially difficult task. Curriculums have changed significantly since many parents were last at school, and you may well find that you lack the knowledge you need, particularly if your child is taking subjects in which you have no experience. You should, therefore, make sure that any help you give is backed up by some research – and that you are not afraid to seek help yourself.
You might also like...