Overcoming Exam Anxiety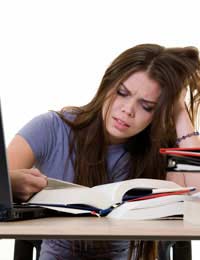 Most people feel nervous before sitting an exam, but for some people exam anxiety can get in the way of their ability to answer and therefore score well on exams. Studying well, preparing efficiently, staying calm during the exam and preparing methods of coping with stressors are all ways that students can overcome exam anxiety and do well on their upcoming exams.
Studying Well for Exams
Students who study well tend to feel less anxiety about taking exams. Studying well means not just reviewing materials but using them to prepare for specific exam questions and formats. For example, students studying for multiple choice exams may want to concentrate on how their material could be broken up into questions with multiple potential answers.
Students studying for essay exams may want to figure out how the topics they are studying could be asked as essay questions. When students feel confident that they know the material, and know how to deal with it when it is presented in different types of questions, they usually feel more confident about sitting the entire exam.
Preparing Efficiently for Exams
As well as studying, students who suffer from exam anxiety should also attempt to prepare efficiently for exams by coming up with a calming routine. Getting enough sleep the night before an exam, having a healthy breakfast or lunch before the exam, wearing something comfortable to sit the exam and avoiding sugary foods or drinks that could cause an energy spike (and then fall) are all examples of how students can prepare efficiently for exams.
Students should also take care to avoid others who may be nervous before exams as students tend to feed off of each other and this type of negativity is not productive for anyone about to sit an exam.
Staying Calm During Exams
Sometimes exam anxiety doesn't kick in until a student is presented with an exam. When this occurs, students should take several deep breaths and read the instructions very carefully. It can be easy to lose sight of what a student is being asked to do when (s)he becomes anxious or emotional, so taking the time to read and even write down the instructions is important.
Looking through the entire exam so that a student can make a brief timeline of how much time to spend on each question or section may also be helpful as it will allow students to feel in control of the entire exam period. Also, students can feel fine throughout an entire exam until others begin to hand their exams up. When others are finished before a student, (s)he may begin to worry that (s)he isn't doing well or should be finished too. Recognising this fear for what it is, and then discarding it to get on with more productive work, is important for students who want to finish strong.
Preparing Methods of Coping with Exam Stressors
The more students take exams the more they will get to know their own exam stressors. Some students may begin to realise that they are fine with everything except time limits. Others may realise that hearing others worry about exams triggers their own anxieties. Still others may find that when they do not eat well before an exam they become more anxious the more hungry they become. Figuring out these stressors and coming up with personalised methods of coping with them should help students feel better about taking exams in the future.
Most people feel some sort of anxiety before taking exams. Studying well for exams, preparing efficiently for exams, staying calm during exams and preparing methods of coping with exam stressors are all ways in which students can overcome exam anxiety.
You might also like...