How I Ensure My Child is Always Learning: Case Study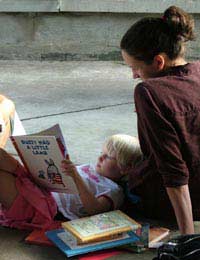 A child is always learning. Their brains don't shut down when school, nursery or playgroup close for the day. But how can parents ensure that their children learn new skills and facts around the clock, in a relaxed way? We spoke to Sheila Gold, mother of Sam, Holly, Susan and Tarn to discover more about the ways in which she encourages her children's thirst for learning.
Q. Your children seem to love learning. How do you do it?
A. I don't think that's down to me at all. I believe that all children love learning. It's just a case of approaching all learning opportunities with fun and enthusiasm, so that your children pick up on your excitement. If I see an usual bird in the garden, I'll fetch the children at once and we'll talk about the bird's characteristics then look it up online or in a book together. Moments like that are key, I think.
Q. Do you read with your children?
A. I read to the younger children, Sam and Holly, but the older two are independent readers. Sometimes they even read to Sam and Holly. They choose their own reading books from the local library, exploring new authors and non-fiction categories. Tarn, my eldest, enjoys reading book blogs and picking up the latest recommendations.
Q. What sort of things do you do together as a family?
A. Although we love going to museums and taking trips to the local library, it's not as if all our activities are immediately educational. We simply try to make the most out of every situation. We love cooking together, for example. The children have a say in what we make and arrive at their decisions based on what's healthy, what's in season, the ingredient we have in the cupboard and what they fancy eating. They measure out the ingredients and we all get involved when it comes to stirring, spooning and chopping!
Q. What's your favourite place to go as a family?
A. We love the local city farm. It's free to visit and there's plenty to do there, from arts and crafts, to petting and feeding the animals, to learning about bees and contributing our kitchen waste to the communal compost heap. It's a great place for the kids to have fun whilst considering the environment, learning the names of different species and meeting other local families. My youngest, Sam, loves the farm cat and tries to stroke her at every opportunity!
Q. What skill are you most keen for your children to learn?
A. I really believe in the importance of critical thinking. I am keen for my children to question the information they hear, whether that be on the radio or television, in books or in conversation. We always discuss what we're reading, watching or learning and informally debate any issues that arise. I often point out adverts to my kids and ask them who they think the advert is targeted at, what it's trying to sell and how it's doing that. I want my children to be active thinkers.
Whilst her family is keen on educational days out, Sheila and her children also understand that they are constantly surrounded by exciting, free learning opportunities. With a little imagination and a healthy dose of enthusiasm, it is possible to help your children to learn in new ways every day.
You might also like...