Encouraging Your Child to Write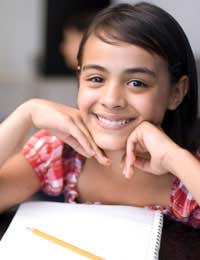 It is commonly said that 'practice makes perfect'. The age old saying also applies to writing. Writing frequently, on a variety of issues and for a whole host of different purposes, will encourage your child to feel confident in forming sentences and putting ideas down on paper.
You might find that your child has taken to writing like a duck to water and requires no extra encouragement other than a healthy supply of pens, pencils and paper.
However, if your child has not yet embraced extra-curricular writing as an enjoyable and rewarding activity, there are plenty of ways in which you can help them to develop an interest. Who knows, they might even go on to become a best-selling novelist or hard-hitting journalist.
Dear Diary
The key to becoming proficient with words is to put pen to paper on a daily basis. Starting a diary can be a fantastic incentive. Encourage your child to write a little each day, documenting the events of the last twenty four hours, their thoughts, feelings and ideas.
There is no need for your child to write huge amounts each day; a couple of sentences will suffice. With a little encouragement, they will take pride in their diary and see writing as something to look forward to. They might even like to illustrate their work. You could suggest they choose a colourful notebook that greatly appeals to them, or supply them with the materials with which to decorate a plain exercise book. Writing in a special volume is bound to bring an extra sense of occasion to their daily jottings.
Boosting the Vocabulary
Words are the building blocks of sentences and paragraphs and their importance must not be forgotten. Whenever your child comes across a new word, whether it be in conversation or reading, why not suggest that they jot it down on a sticky note and display it in a prominent place?
Alternatively, they might like to keep a journal of new words. The sooner students use recently acquired vocabulary in their own work, the more quickly it will become embedded in their brain. With this in mind, why not suggest that they try to incorporate words learnt on a particular day in that day's diary entry? Results can range from the admirably inventive to the exquisitely humorous.
Celebrating Snail Mail
Why not teach your child all about traditional forms of written social communication? From party invitations to thank you letters, such pieces are fun to compose and a delight to receive. Your child might like to pen a thoughtful, personal message in a friend's birthday card or write a poem to mark a family celebration. In time, they are bound to come up with plenty of their own ideas too.
Writing can be an excellent means of self-expression for young and old alike. However, it is important to remember that writing and reading go hand in hand. An avid interest in reading will significantly boost your child's writing abilities. Encourage them to devour magazines, books, the backs of cereal packets; any text they can lay their hands on will do. Either way, a confidence with words will pave the way for long term academic success.
You might also like...