Geography: Map Work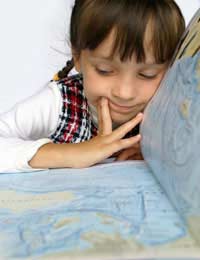 As the opportunity for travel and our interaction with people around the world increases the ability to use maps and to develop mental images of the world is becoming more and more important for children.
Learning should never be restricted to the classroom. Parents and caregivers are a child's first and most important teachers as they spend the most time with a child. As a parent, you can do a lot to enhance your child's geographic knowledge. If a parent shows an interest in geography and places then their child is likely to develop a similar interest. A child who grows up around maps, atlases, globes and discussions of world events are more likely to take an interest in physical locations.
Map Reading Activities
Even young children can learn to read simple maps of their own area, their school and their community. The following are some activities that you could do with your child:
Locate your city or town on a map. You may even be able to find your street if the map is really detailed. Visit Google Earth and find your own street and where your relatives and friends live.
Hide treats in your back yard, garden or in your home. Create a treasure map and encourage your child to find the treats using the map.
Locate local physical features on a map e.g. your nearest lake, mountain etc. Talk about how different features affect our lives.
If you are taking a trip show your child a map of where you are going and look at the route you plan to take. Ask your child to suggest alternate routes. Choose the most suitable route and discuss why it is the best route.
If your child goes to a school in their own area discuss the reasons for going to that school. Maybe it is the nearest school to your home, or the easiest to get public transport to. Help your child to locate their school on a map and look at surrounding features such as roads, parks etc.
A fun activity would be to get your child making his/her own maps. Create legends with symbols or little pictures. If your child is older they may be able to draw out the layout of their own street, the route to school or the route to their friends house. Younger children could create maps based on stories such as The Wizard of Oz or Winnie The Pooh.
Always keep a map of the UK in your house and encourage your child to locate places talked about on the news, on television programs or even to follow the travels of a favourite sports team.
If you do not have an atlas, globe or maps in your house there are many places where you can obtain free maps. Visit tourist agencies for walking tour maps or guidebooks to area attractions. You may be able to find some maps to take a look at in your local library. Local government offices often provide free maps.
Learning Geography can be fun. Playing games, looking at maps and getting involved in easy, informal activities can help lay a solid foundation in geographical experience for your child.
You might also like...