Teaching Your Child ICT Key Skills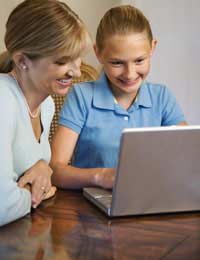 Computers are now a fundamental part of everyday life, both in the home and at work. Good computer skills will be a necessity for your child in virtually every conceivable profession, so it is important that they have a good set of basic ICT (information and communication technology) skills.
You can help your child to develop these skills at home. Building a foundation of basic ICT abilities, either before your child goes to school or in addition to their lessons, will ensure that they are comfortable with technology.
Why are ICT skills important?
Good computer and ICT skills are a necessity in an increasing number of jobs. More and more professions require employees to have at least a basic level of computer competence, and the ability to learn to use new software or equipment quickly. In order to achieve this, your child needs to be comfortable and familiar with the basic operation of a computer.
Today, schools are theoretically required to make sure that all pupils receive basic computer training. But in practice, many schools lack the resources or facilities necessary to give every child the help they need. If this is the case, you may want to help to teach your child yourself.
What equipment do I need?
Most ICT training is focused on PCs. While Apple Macs are constantly growing in popularity within many professions, the Windows operating system found on PCs remains the standard amongst most industries. Having a PC running Windows is therefore a good start.
A laptop or a desktop computer would both be suitable – although it is worth remembering that, if your child is particularly young or inexperienced, they will need to be taught how to use a mouse. If you have a laptop computer at home, you might consider investing in a separate mouse. These can be bought for around £5.
In addition, you will probably require some of the most commonly used software. The Microsoft Office suite is the standard within most industries, and includes a word processor application and spreadsheet software. If Office is too expensive, there are free alternatives that offer very similar user experiences. OpenOffice, for example, is a free, open-source office suite that gives much of the same functionality.
What are the key study areas?
The key areas on which you should concentrate will broadly depend on the age and experience of your child. To begin with, your child will need to understand the basic operation of a computer. Things that we take for granted may not be immediately obvious to young children. For example, the mouse can be confusing. You should go through the fundamentals first, such as how to move the cursor and how to select items. Keyboard use is also important, and explaining the layout of the letters, for example, can be a lengthy process.
Once your child is comfortable with operating the computer, you may choose to move onto the most fundamental software. They will need to know how to use a word processor, for example, and they may need to understand the nature of spreadsheet software.
The internet is also an important area of study. You should explain to your child the nature of the internet, and show them how to search for the information they need. It is also important to make sure that your child understands how to stay safe when they are online. You may want to set some ground rules, and it would be worthwhile investing in parental 'locking' software to prevent your child from accessing inappropriate content.
What if I don't have the expertise?
Many parents find that they lack the expertise required to teach their children the ICT skills that they need. If this is the case, be aware that help is available. Many local libraries run basic ICT training – and many of these are aimed not at children but at adults. Your local library will also provide free access to computer equipment if you don't have the necessary items at home. Finally, remember that your child's school may be able to offer help and advice, particularly by explaining what your child will need to know in order to complete their lessons most efficiently.
You might also like...